Love is an unceasing thirst to unite with one's beloved. Love is constant remembrance.
Sw. Satyananda
Sun (vegan)
50 rsd / 80 g
Ingredients: miscellaneous flour, buckwheat flour, integral flour, pumpkin seeds, millet, sunflower, sesame, black sesame, flax, quinoa, beer, olive oil, baking powder, Himalayan salt.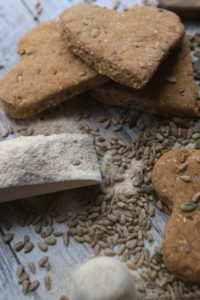 Monastery breakfast
75 rsd / 120 g
Ingredients: eggs, ricotta cheese, corn flour, oatmeal, sleep, quinoa, flax, acidic water, baking powder, millet, Himalayan salt, oatmeal.
Cracker
70 rsd / 60 g
Ingredients: dry dried tomatoes, dates, buckwheat flour, rice flour, basil, buckwheat flakes, Himalayan salt, garlic, minced pepper, baking powder, sunflower, olive oil.
Samosa
120 rsd / 110 g
Ingredients: carrots, leeks, peas, corn sugar, honey, curry, ginger, buckwheat bark (with white wheat flour), Himalayan salt.